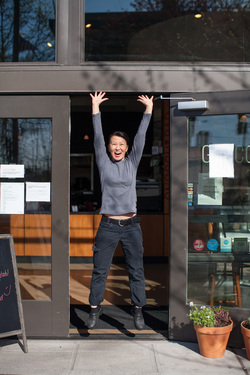 We are pleased to welcome Executive Chef Lisa Nakamura to the Project Feast team! Lisa has more than twenty years of experience in the food industry ranging from her first cooking job working for Lisa Dupar to several Executive Chef positions to opening two of her own restaurants, Allium on Orcas Island and Gnocchi Bar on Capitol Hill. Lisa's experience includes fine dining having worked for Thomas Keller at Napa Valley's French Laundry as well as casual dining most recently at Gnocchi Bar. She has worked as a Chef in Munich, Germany as well as in Seoul, South Korea and truly understands what it is like to work internationally while not speaking the local language. While running a kitchen is already a high stress job, Lisa can claim to have done it under the added duress of Hurricane Katrina when she found herself needing to take over the kitchen at a hotel in New Orleans on day 5 of a new job.

Lisa is from Hilo, Hawaii and has a BS in Botany from Arizona State University. She graduated top of her class from Maryland's L'Academie de Cuisine in 1995. Furry animals and kind people are some of Lisa's favorite things.

As Project Feast's Executive Chef, Lisa will lead the Project Feast training café in Kent, WA that we will launch to the public in February as well as our catering program. With Lisa joining our team, we look forward to phenomenal year ahead.