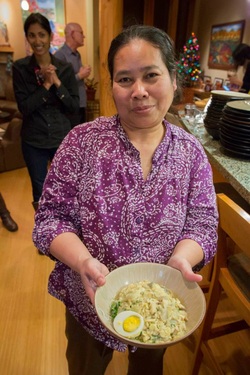 Yesterday's snow was a reminder that winter is right around the corner. In addition to the bleak weather, many Americans are worried about the direction the US is taking and fear for their safety and all that they hold dear. As we work to accept our reality, the work ahead of us lies in community re-building. How do we live and work with people we disagree with politically. How do we accept views that seem fundamentally different from our own? How do we stay engaged in the tough work ahead of us to shape our future while taking care of ourselves.

bell hooks sums it up perfectly: "In evoking that sense of breaking bread, we call upon the various traditions of sharing that take place in domestic, secular, and sacred life where we come together to give of ourselves to one another fully, to nurture life, to renew our spirits, sustain our hope"

While I reminisce about the many meals we have shared with so many of you, I thought of Annie Philit, a refuge from Burma who I had the pleasure of meeting and learning some personal recipes from. I heard recently that Annie's family moved away to eastern Washington in search of better jobs and more affordable housing. I was sad that I didn't get to say good bye. One of the times that Annie helped us, was to share her recipes with a group of 15 women that had gathered to experience Burmese cuisine. One of the dishes that we cooked that day was Mohinga, perhaps the national dish of Burma. I share this recipe as it feels like the perfect dish to warm up on a cold winter day and to nourish our souls as we continue to work towards a stronger community. The photos were taken by our host and professional photographer Lisa Merrill.

Download the Mohinga recipe below.