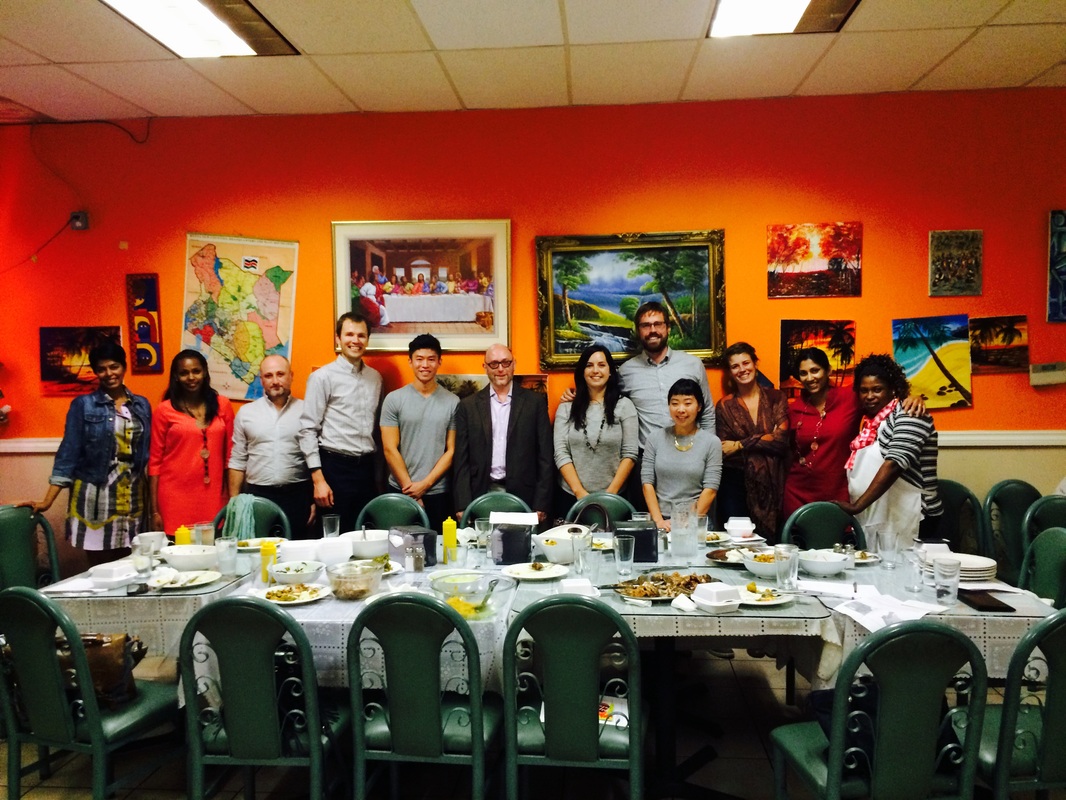 We are so pleased to announce that our first Migrating Meals at Safari Njema was a great success. Lucky for us, the group was fantastic! After everyone had arrived and settled around a large communal table, we dove into
two different speeches
to give us some context for the discussion. Both were written by Wangari Maathai, a 2004 Nobel Peace Laureate, Kenyan political and environmental activist, and founder of the Greenbelt Movement. These texts gave us some insight on connection between food and our cultural identity, and how food can be a source of pride and connection to one's cultural identity.
Before going too deep, however, we needed fuel. Jane, owner of Safari Njema and our host for the night, appeared from the kitchen with both hands full of steaming Kenyan food. One after the other the bowls and platters made their way down the table: goat, tilapia, matoke cabbage, pilaf rice, ugali, chicken curry, and skuma to name a few. With our bellies full, the group was able to get to know each other a little bitter. The food was incredible, and the ingredients also told a story.
Maathai's speeches helped us to understand more about the roots of Kenyan food and how food has been used as a critical tool in the colonization of a land and it's people. Kenyan food reflects the diversity of cultures present in Kenya: over 40 different tribes, Portuguese, Indian and Arab influence, as well as its British colonial history. Many of the staple foods from Kenya were actually imported by colonizers, and these foods are generally less nutritious than the indigenous foods that became marginalized by the introduction of cash crops. Yet Kenya has made this food its own, and food is a means to express cultural pride and resilience despite it's long history of oppression. As a group, we grappled with the role of food in expressing cultural pride here in the U.S., and explored how food can be used as a form of control. As the discussion evolved, and we were left with some questions and thoughts to chew on:
How can food be used to "reclaim" culture?The culture of home feels stronger when you are removed from home—we take our culture for granted when we are living in it everyday.
Why should Americans appreciate a cuisine in order for immigrants to feel pride in their culture? Is it the act of sharing, or offering it to someone outside or someone at a a higher social level?
We look forward to our next meal in October!